News
Trade-Mark Achieves COR™ Certification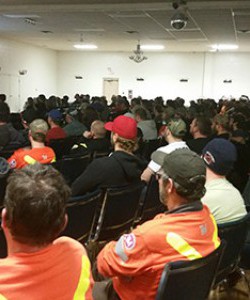 We are pleased to announce that Trade-Mark Industrial has achieved COR™ certification from the Infrastructure Health & Safety Association (IHSA) as recognized by the Canadian Federation of Construction Safety Associations (CFCSA).

To achieve this significant milestone, Trade-Mark underwent a lengthy and intensive internal and external audit of its entire health and safety management system (including employee interviews, documentation review, and observation techniques to evaluate the company's practices).
This accomplishment is another example of the company's relentless commitment to safety as an integral part of its business and the fundamental measure of success in its operations.
"This certification supports our pursuit of continuous improvement and performance by enhancing our existing safety practices and proactive behaviour even further," said Craig MacDonald, Trade-Mark's Occupational Health & Safety Coordinator. "It also continues to assure customers that we will always bring superior safety practices to the workplace."
To access our certificate of recognition in PDF format click the image below.