Forklift Rentals
Available Models
Hyster Model H80FT
Call to Book: 519-650-7086
Trade-Mark's new rentable Hyster H80FT Fortis lift truck provides strength, durability and toughness for your jobs. With a maximum capacity rated at 8,000lbs, it is designed for maximum efficency and speed. This can result in lowering your costs therefore increasing your profits. Combining the toughest powertrain and industrial strength electronics; this is a hassle-free, dependable machine built with optimal comfort and control
Hyster Model H120FT
Call to Book: 519-650-7086
Trade-Mark's new rentable Hyster H120FT Fortis lift truck provides strength, durability and toughness for your jobs. With a maximum capacity rated at 12,000lbs, it is designed for maximum efficiency and speed. This can result in lowering your costs therefore increasing your profits. Combining the toughest powertrain and industrial strength electronics; this is a hassle-free, dependable machine built with optimal comfort and control.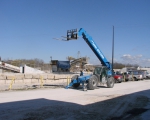 GTH 1056 Telehandler
Call to Book: 519-650-7086
Our Genie® Telehandler is built for the most rugged environment. Offering excellent lift capacity to a maximum capacity of 10,000lbs; it can easily cover your worksite needs. Powerful features such as four-wheel drive and steering, it comes with a maximum lift height of 56 ft 10 in (17.32 m) with a 42 ft (12.80 m) maximum reach.
Added features
Operator selectable steering modes
3-speed forward and reverse
Power-shift transmission
Power assisted steering
Machine level indicator
Full instrumentation
48 in carriage and pallet forks
Boom angle indicator
Retractable 3 in (8 cm) seatbelt
Left front and rear tire fenders
Reverse motion alarm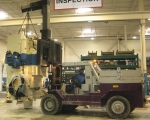 Bristol RS80
Call to Book: 519-650-7086
The Rigger Special 80 is a true industrial high-capacity forklift truck. With a small footprint allowing navigation through tight spaces, it comes with a lifting capacity of 80,000lbs. This versatile unit is available for rent, with or without the hydraulic boom, to fulfill your short or long term rental needs.
Service Areas
Based in Cambridge, Ontario, Trade-Mark is able to provide forklift rentals to key cities in south western Ontario including Guelph, Hamilton, London, the greater Toronto area and beyond.