Jacking Tower Rentals
Available Models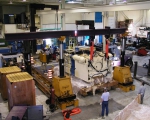 High Capacity Jacking Tower
Call to Book: 519-650-7086
Our hydraulic gantries are designed for maximum stability and safety in operation. These units are used in pairs with a cross beam to make up a lifting frame. We have four sizes available:
200 Ton 2-point system
325 Ton 2-point system
400 Ton 4-point system
650 Ton 4-point system
The main features of our hydraulic gantries are as follows:
Main Features
Telescopic ram designed for regular use to the full extension.
Heavy-duty box girder base runway for maximum rigidity
Constant extend and retract speeds, regardless of ram stage, allowing the units to be supported at different heights
Hydraulic direct drive to the wheels for smooth start/stop.
Stroke/pressure sensors and comprehensive overload safety features.
Service Areas
Based in Cambridge, Ontario, Trade-Mark is able to provide jacking tower rentals to key cities in south western Ontario including Guelph, Hamilton, London, the greater Toronto area and beyond.