Man Lifts
Available Models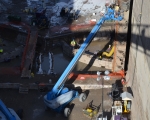 Genie S-125 Man Lift
Call to Book: 519-650-7086
Genie® telescopic S™-booms offer greater horizontal outreach than any other type of aerial platform — perfect for areas with limited access in construction and industrial applications.
Features:
Super Boom models combine maximum reach with exceptional maneuverability
Four-wheel steer includes front, rear, crab and coordinated steer functions
Four-wheel drive and four-wheel brakes
Extendable axles operated from platform allow convenient transport
Fully proportional platform controls with ramp up/down feature
Three quiet, powerful diesel engine options
Standard 8 ft. (2.44 m) self-leveling platform with hydraulic rotation
Out-and-up articulating jib option
Check operating manual before use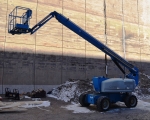 Genie Z-80 Man Lift
Call to Book: 519-650-7086
Ideal for outdoor construction and industrial applications Genie® engine-powered articulating Z™ booms provide lifting versatility with a combination of up, out and over positioning capabilities and outreach that's second to none.
Features:
Genie® Fast Mast™ system lowers the platform to the ground without having to lower the secondary boom; raises primary and secondary booms simultaneously
Full-time positive traction and full-time 4WD (4WD models) for a smooth ride on rough ground conditions
Reverse-articulating secondary boom with 29 ft. (8.83 m) of up and over reach and zero front arm swing
Quiet diesel engine options for increased performance, grade-ability and terrain-ability
Platform hydraulically rotates 160˚ and stays level throughout the entire range of motion
Smooth, precise, fully proportional platform controls with ramp up/down feature
360° continuous turntable rotation for fast, easy positioning
Steel platform with up to 500 lb. (227 kg) lift capacity
Check operating manual before use.
Service Areas
Based in Cambridge, Ontario, Trade-Mark is able to provide man lift rentals to key cities in south western Ontario including Guelph, Hamilton, London, the greater Toronto area and beyond.